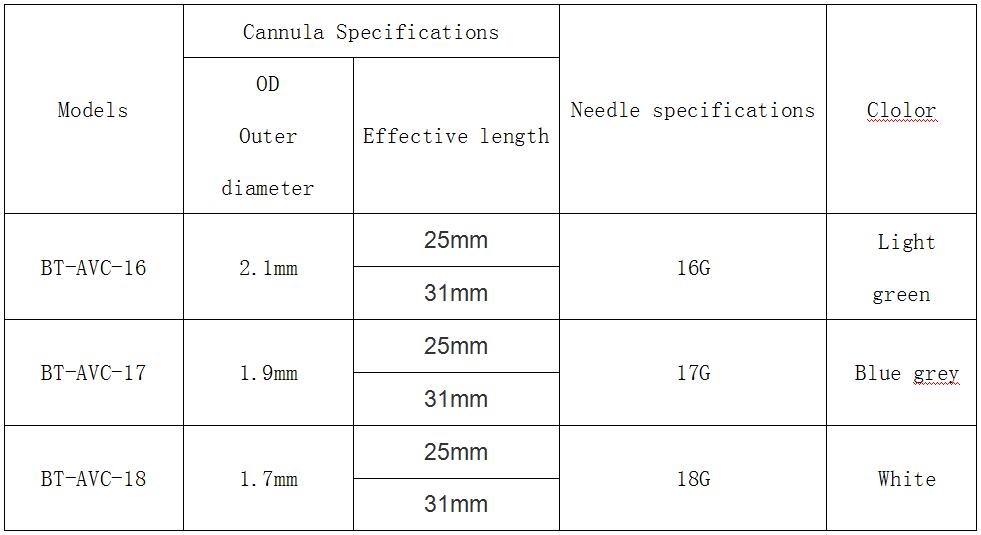 ■
Models: BT-AVC-16、BT-AVC-17、BT-AVC-18
★Compared with traditional AV Fistula needle:
★TPU material cannula can well protect patient's fistula and reduce bleeding rate at the puncture site;
★It can shorten hemostasis time after withdrawal of needles.
★porous structure design of cannula is helpful to improve the smoothness of the vascular access and guarantee higher blood flow to improve the sufficiency of dialysis.
★Patients can freely take articles during dialysis treatment. It increases the mobility of the puncturing arm and improve patients' comfort and activity during dialysis treatment;
★It can greatly relieve the pain and acid distension at the puncture site during dialysis treatment and alleviate the pain of patients.
★It solves the problem of hard fixation of the needle for patients with pseudoaneurysm;
★Smooth and safe tip of cannula can solve the problem of internal fistula hematoma easily caused by the activity of needle during dialysis,which greatly reduces the risk of vascular injury.
★It has good applicability to patients with disturbance of consciousness, agitation and patients with thin wall of the fistula and easy tip sticking.
Compared with similar products in the market:
★Clinical operation is simple, convenient and fast, which greatly shortens the time required for puncture;
★The product's structure adds pre-flushing and closed blood return function, which minimizes the time of blood exposure, thereby reducing the chance of cross-infection;
★The product has reasonable structure, smooth blood pathway and connection, which greatly reduces the probability of thrombosis.
■Packing:500 pcs per carton(single packing and double packing for options)
■Sterilization:Ethylene Oxide Gas
■Shelf life:3 years
■Storage condition:Room Temperature:5℃~35℃; Room humidity: no more than 80%
■The product has passed CE certification
■
The product has passed the CE certification